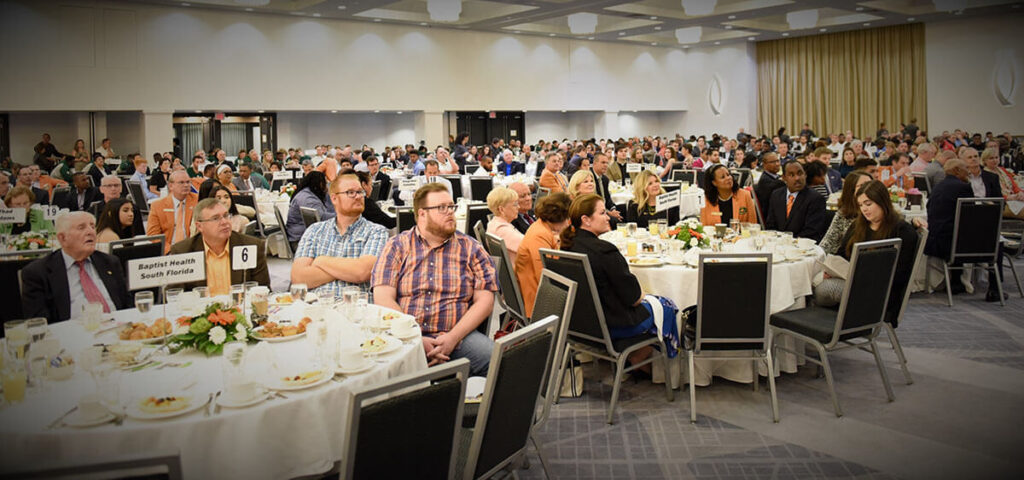 We're so glad you're here to support the 51st Annual FCA Orange Bowl Prayer Breakfast!
Your investment into the mission and vision of our FCA ministry will be rewarded by the lives positively impacted. In addition, you will have the opportunity to boost your company/brand recognition by aligning with our 50 years of notoriety. FCA's Orange Bowl Prayer Breakfast will give you a platform to carry your company's message to the tri-county area of Miami Dade, Broward, and Palm Beach Counties in one setting. Now's the time to consider being a sponsor of this annual event and strategically placing your company/brand in front of a thousand+ attendees gathered by faith, football, and fellowship.
When you select the Presenting sponsor level, your company's name will be visible in prominent areas; including all print and digital platforms in the months leading up to and after the Prayer Breakfast. For one year, your logo will be on both the local FCA homepage as well as the newly designed, FCAOrangeBowl.org event website. We will also link your logo back to your contact, so our guests know how to connect with the brands who support ministry in their community. Most importantly, your support will also allow Coaches and Athletes in the FCA community to attend the Prayer Breakfast at no cost.
We've also included a way for your reach to extend beyond just the Prayer Breakfast event. Your contribution will also provide a scholarship to athletes to attend Camp in summer 2022. Each recipient will know they were given the opportunity to participate thanks to you and your generosity.
2021 FCA OBPB Sponsorship Opportunities
1. Presenting Sponsor - $20,000
2. All-Star Sponsor - $10,000
3. teammate Sponsor - $7,500
7. Table Sponsor - $1,000
Choose your sponsorship level above and then select your local FCA chapter below. For more information on submitting a check payment, getting a customized sponsorship package, or purchasing individual tickets ($50), contact Tresha Barrett at tbarrett@fca.org.
For business and/or church partnerships, email your local FCA Director.
Also, ask them how you can Adopt-A-School in your area beyond the Prayer Breakfast event. Your generosity can immediately provide outreach activities, meals, Bibles, and resources to the school of your choice for the entire school year.
FCA IS A 501 (C)(3) NON-PROFIT ORGANIZATION. YOUR CONTRIBUTIONS ARE TAX-DEDUCTIBLE TO THE FULL EXTENT OF THE LAW.
51st Annual OBPB Presenting Sponsors